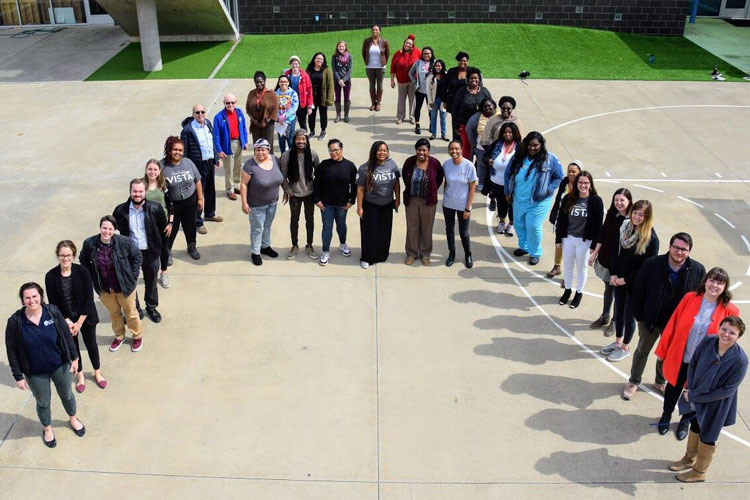 AmeriCorps Week 2023 is March 12-18
During AmeriCorps Week we recognize the commitment of the millions of Americans who have chosen to serve their country through AmeriCorps and AmeriCorps Seniors, and encourage others to follow in their footsteps of service. 
The second full week of March, the country recognizes and gives thanks to those members and volunteers who raise their hands to help when the need arises. They are often the first on the ground and last to leave—making sure to leave their projects better than they found them.  
AmeriCorps engages 200,000 Americans each year in sustained, results-driven service through our AmeriCorps and AmeriCorps Seniors programs. Members and volunteers continue to help communities manage COVID-19 response, ensure students stay on track to graduate, combat hunger and homelessness, respond to natural disasters, fight the opioid epidemic, help seniors live independently, support veterans and military families, and much more.   
140K
AmeriCorps Seniors volunteers serving.
1.25M+
Americans have taken the pledge to get things done since 1994.
United We Serve
Join with us as we celebrate our programs and offer our thanks to members and volunteers for uniting in service to make an impact on their community, foster a sense of constructive action, civic participation, and belonging. 
Recognize, Promote, and Engage
AmeriCorps Week is a time to salute AmeriCorps members, AmeriCorps Seniors volunteers, and alumni for their service, thank AmeriCorps community partners, and highlight AmeriCorps' impact on communities and on the lives of those who serve. AmeriCorps also invites elected officials – from Members of Congress to Governors and mayors to county officials – to participate in AmeriCorps Week.  
Recognize and Promote
Say thank you. During AmeriCorps week, we invite you to say, 'thank you' to an AmeriCorps member or an AmeriCorps Senior volunteer. 
Share videos, photos, and posts on social media giving #AmeriThanks to AmeriCorps members, AmeriCorps Seniors volunteers and alums all week long. Don't forget to use the hashtag #AmeriCorpsWeek and tag @AmeriCorps. 

Host a thank you celebration or reach out directly to AmeriCorps members, AmeriCorps Seniors volunteers, or alumni. 
Share AmeriCorps' impact. Through op-eds, letters to the editor, social media, or other communications channels, take a moment to highlight the impact of the work these members and volunteers do, share member, volunteer, or alumni stories, and more.
Share your story. AmeriCorps Seniors volunteers, AmeriCorps members, and alumni can share your own service story.

Share on social media through video content, photos, and posts. Be sure to tag #AmeriCorpsWeek and @AmeriCorps.

You can also share in your local paper about your service experience during AmeriCorps week. 

Finally, you can share your service story with us on americorps.gov. 

Spread the word in your community. Tell the people in your community about the impact AmeriCorps programs, members and volunteers make in their community. 

Help AmeriCorps recruit more people to national service. Share our opportunities in your channels. 

Share in your local paper about AmeriCorps and AmeriCorps Seniors. 

Share on social media and tag #AmeriCorpsWeek and @AmeriCorps. 

Encourage your networks to learn more about AmeriCorps and AmeriCorps Seniors, share ways they can get involved in national service, and follow @AmeriCorps on social media.

Become an Employer of National Service or a School of National Service.

Don't forget to share your state's National Service Report, reflecting the profound impact AmeriCorps and AmeriCorps Seniors programs, members, and volunteers make in the states and territory of the United States, to change and improve countless lives through the power of service. Use the reports and graphics to celebrate your state during AmeriCorps Week.
Engage
AmeriCorps Week is a great time to invite community leaders to spend time with national service programs, members, and volunteers. 
Join the #AmeriThanks Social Storm. Kick off AmeriCorps Week by saying thank you to the thousands of AmeriCorps members and AmeriCorps Seniors volunteers who lift up and build up our communities. Let's give them the gratitude they deserve for bringing out the best of America. Be a part of the storm by sharing our #AmeriThanks Social Storm post (found in the AmeriCorps Week toolkit) from your Twitter, Facebook, and/or Instagram account. To achieve the greatest reach, please use the graphic and tags included below and publish your posts at on Monday, March 13 at noon ET.

Host an "honorary AmeriCorps member." Invite media, an elected official, a community leader, school principal, AmeriCorps alumnus, or other local dignitary to see AmeriCorps in action by becoming an "honorary AmeriCorps member' or by doing a site visit.   

Participate in Mayors Day. Join Mayors from across the country in recognizing the impact of AmeriCorps and AmeriCorps Seniors on Tuesday, March 14. 

Join us on Day of the A. Show off your AmeriCorps gear – new logo, old logo – it doesn't matter! Don your favorite tee, break out your old baseball cap, or show off your AmeriCorps-themed arts and crafts project. Take a photo and share it on your personal social media channels on Thursday, March 16, in honor of the #DayoftheA.    

Declare AmeriCorps Week in a state or local proclamation. Help declare March 12-18 as AmeriCorps Week in your community by securing AmeriCorps Week proclamations from your city or county council, state legislature, or governors. Use this Sample Proclamation and contact GovernmentRelations@cns.gov for information about the national service footprint in your community. 
Resources
AmeriCorps Week Toolkit: Use our one-stop shop for all AmeriCorps Week communication resources including graphics, templates, and other outreach tools.