For young adults passionate about serving their nation, combating the climate crisis, launching rewarding careers, and protecting our public lands.
Forest Corps is a program partnership between AmeriCorps NCCC and United States Forest Service.
You will perform direct, hands-on service in the areas of wildfire risk mitigation, reforestation, environmental conservation, and resource management. Your service project could include hazardous fuels reduction, protecting threatened habitats, conducting prescribed burns, wildlife surveys, infrastructure or trail maintenance, or providing nursery services to support growing seedlings, so adaptability is key! You'll also undergo intensive training with the United States Forest Service to prepare you and take on leadership roles and specialized assignments along the way. Learn and grow with a team of your peers and get a foot in the door to work environmental conservation as a career.

Forest Corps work is field based and rigorous. You must be prepared to handle hiking long distances while carrying a heavy backpack, uneven terrain, carrying tools, and be able to complete trail work, surveys, prescribed fire burns, planting seedlings, and other labor-intensive outdoors projects. Please carefully weigh these considerations before applying.
Forest Corps: A Pathway to Success in the U.S. Forest Service
NCCC Position Options
Member
Members are assigned to a regional campus to complete initial training and to receive team assignments. Diverse teams of 18-26* year-olds work under the direction of one team leader and complete the service term living and serving together. Members are responsible for completing Corps Training Institute, earning 1700 service hours, participating in physical training, and contributing to various team activities.
Team Leader
Team leaders are assigned a team of eight to 10 members. This role is not a staff position; however, team leaders are expected to guide and support the team throughout the service term. Team leaders are responsible for completing Team Leader Training, prior to member arrival. Team leaders conduct daily team activities and serve as the liaison between the team, the project sponsor, and AmeriCorps NCCC staff. Please note anyone may apply to be a team leader. Prior service experience is not required.
Join NCCC Forest Corps
| Position | Apply: | Serve: | Train in: |
| --- | --- | --- | --- |
| Team Leader | Nov. 1, 2023 - Feb. 29, 2024 | Early June - April | Sacramento, Calif. |
| Member | Dec. 1, 2023 - Mar. 31, 2024 | Late June - April | Sacramento, Calif. |
Need help with the application? Check out our How to Apply section for step-by-step instructions on applying to AmeriCorps NCCC.
Not ready to start your application? Connect with us first for application resources and more information.
Benefits and Eligibility
Benefits and Eligibility
Learn about the benefits during, and after, your service term with AmeriCorps NCCC. Find out more about the requirements to serve as a team leader or member.
Resources for Members and Supporters
Apply
How to Apply
Step-by-step instructions on applying to AmeriCorps NCCC.
Hear From Current Members and Alumni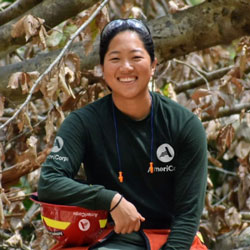 "During my first year as an AmeriCorps member in NCCC, I heard about the U.S. Forest Service special teams. It sounded like something I would enjoy and it's a career path I didn't even think about. I want to come back to be on one of these teams to help further my career." - Kira
AmeriCorps alumna, AmeriCorps NCCC, U.S. Forest Service Team
"I learned about the program from my sister, Shelby, back home in Detroit. She served in AmeriCorps NCCC on a forest team and told me all about it. I joined, and now I am an AmeriCorps NCCC member serving on a forest team. My service with AmeriCorps will help e achieve my goal of becoming a firefighter." - Kam
AmeriCorps member, AmeriCorps NCCC, U.S. Forest Service Team
"I wanted to join NCCC to gain a wide variety of different experiences and learn new skills, all in a part of the country that I'd never been in before." - Bridget
AmeriCorps member, AmeriCorps NCCC, U.S. Forest Service Team
Get in Touch with AmeriCorps NCCC
Whether you're ready to take the next step with AmeriCorps NCCC or if you're still getting to know your options, we are here to help.